K. Linda Tzang is a 30-40-year old woman who works for the
Royal Alberta Museum
as the Curator of Cultural Communities. She was in charge of setting up the exhibit "
Chop Suey on the Prairie
", an exhibit focusing on Chinese restaurants in the prairies. She helped the Quon family create an exhibit showcasing their restaurant. She is of Asian descent, most likely Chinese.
Personal Life and History
Edit
In January 2005, K. Linda Tzang was appointed to oversee the Cultural Communities Program at the Royal Alberta Museum. Linda earned her BA from the University of British Columbia, an MA in History from McMaster University in Ontario, and an MA in Museum Studies from Leicester University in the UK. She has worked at the Transport Museum in Glasgow, Scotland, the West Vancouver Museum and Archives, the City of White Rock Museum and Archives, and the Vancouver Museum. Linda was also the Curator of Local History at the Chinese Cultural Centre Museum & Archives in Vancouver, B.C., and has presented a regular column for CBC Radio in Vancouver, BC. She was a Board Member of the Asian Canadian Writers' Workshop and was an editor for the e-journal, Cultural Policy, Criticism and Management. She is currently an Executive Board Member of the Material Culture Institute at the University of Alberta.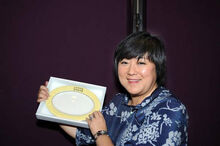 Appearances
Edit
References
Edit