Mandy Quon
is the youngest daughter and child of the Quons. She is
Amy
's favourite. She is dating
Ajit
, an Indian man, that appears to work at the restaurant. She lives at the
Quon House
with
Amy
and
Kinman
, and works a part time night shift at the restaurant, and is a sales manager at a hotel. Her and
Marty
are closer siblings than her and Miles. She works as a hostess at the restaurant.
Personality
Edit
Amy is the family princess and weekend hostess at the Lingnan restaurant. Daughter Mandy struggles with a classic split personality. At the Lingnan and at home (she lives with her parents), Mandy is the perfect, dutiful Chinese daughter. Away, she's a modern, ambitious woman—working full-time as a hotel sales manager. Mandy regularly hostesses at the Lingnan, and sees the restaurant as a huge part of her life. She likes knowing that she can manage the pressure of a busy Saturday night, even when her dad is behind on orders and her mother can't stop chatting with the customers. Mandy consistently backs Miles' innovative plans for the Lingnan, but she never hesitates to voice ideas of her own—even if Miles isn't always willing to listen. That said, Mandy also has a life outside of the restaurant. With a budding career in the hotel biz, she has started fantasizing about finally moving out of her parents' house, and about building her interests and experiences in the world beyond the Lingnan.
Relationships
Edit
A few years ago, Mandy slightly scandalized her mom by choosing an East Indian boyfriend,
Ajit
.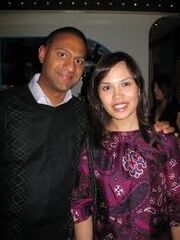 But the handsome Ajit has completely won Amy over—particularly when he pitches in on nights when the Lingnan is short-staffed (which he does in order to spend time with Mandy). Mandy's brothers and father, on the other hand, liked Ajit from the moment they met him. He has, in effect, become one of the Quon boys—spending more time with Miles, Marty and Kinman than he does with Mandy. This often drives Mandy to distraction. Is he their boyfriend, or hers? And, with Mandy asserting her own identity in her relationship and career, how will her possessive (and endlessly worrying) mother cope?
Appearances
Edit
All Episodes (Season 1)